Arya Tray

Innovative for its aesthetic and functional qualities.
The particular edge design enhances and enriches every cake, the edge is studied to facilitate containment and carry of cakes.
Additional Info
Colore:

Gold / Brown

Articolo 1:

Art. LOA/24

Misure 1:

ø cm 24

Articolo 2:

Art. LOA/26

Misure 2:

ø cm 26

Articolo 3:

Art. LOA/28

Misure 3:

ø cm 28

Articolo 4:

Art. LOA/30

Misure 4:

ø cm 30

Articolo 5:

Art. LOA/32

Misure 5:

ø cm 32

Bordo:

The unique design of the edge make the tray really different from any product present on the market, both for aesthetic impact and functionality in the use.

Dettaglio: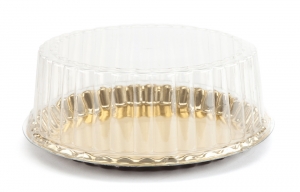 Give protection to Your creation without hiding them. Their particular structure allow to overlay more than one cake to enphasize them without damage.